Frequently Asked Questions
Can I get an estimate?
We do not just offer quotes to new clients. If you are an existing client we try hard to do anything that is needed but we do not quote just patios, decks, single plantings, etc. Here at Denver Landscapes we put our clients through a design first, once the design is complete then we can give you a comprehensive proposal to install your project. Designs start at $750 and are billed at $150/hour
What is your process?
1.  First we have a good conversation over the phone to make sure we are a good fit
2.  Then we e-mail a design questionnaire for you to fill out and return, then a designer will review it, if everything looks good we will set up an initial meet and greet.
3.  We will start on design, once the design is complete we will present it along with a comprehensive proposal for the installation of the design.
4. The fun part is when we get to install your project with a high quality of craftsmanship and premium products.
How long does it take to start a project?
Our design turnaround is 7-21 business days. Our construction schedule often can changes daily, we will need to learn more about the scope of work on your project and then we can ask scheduling on the time frame. We stay booked up 3-6 weeks throughout the year.
I'm not sure what steps I need to start with?
Lets have a phone conversation to make sure we are a good fit then I will send out a design questionnaire for you to fill out and return, once this is returned I will have a designer meet with you to discuss your project in more detail.
How much will ______ cost?
Designs vary in shape and size, each project is unique.  We can't give you any accurate set price, however; designs typically range $750-$2000.
I would like to get some landscaping can you come and and look at it?
No, we do not do small projects for new clients, we would love to create your dream outdoor space. We would love to meet with you to learn more about your project and let you know how our design and install process works. We will have you first fill out and return our design questionnaire, then we will have a designer review it and then we would set up a meet and greet on-site.
Do I need a design?
Yes, all our clients go through our design process to ensure excellent function and flow of the property. We do this by placing plant material where it will thrive, correcting drainage, building exquisite outdoor space with exceptional visual composition, and lastly we can quantify everything at the beginning so you know what your cost will be to the cent.
Do you charge for a design?
Yes, we hire only fully qualified and experienced Architects/Designers, designs start at $750 and are billed at $125/hour
My landscape needs help, but I am not sure what?
Wonderful, we hire talented Landscape Architects/Designers that are here to help you through this process, we will guide you through the best design for your families needs.
Do you have a minimum?
We do, our design minimum is $750 and our construction minimum is $10,000.
Do you work on smaller jobs?
That depends on your definition of "small", we can do some stunning work in small spaces, a unique water feature, fire feature etc. However, unless you are an existing client, our construction minimum is $10,000.
See More from Denver Landscapes
Featured Projects
Take a look at the outdoor fireplaces and fire pits that we've done in the past for our clients.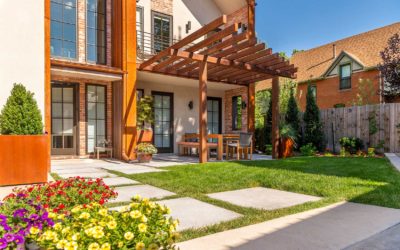 Industrial Materials, Modern Beauty Utilizing modern construction materials such as Corten Steel, Denver Landscapes has created an amazing accent to this one of a kind custom residence in Denver's Highlands neighborhood. Pulling from the prominent usage of Corten...
Have Denver Landscapes build your dream.